Neighborly Reacquires Drain Doctor Master License in U.K.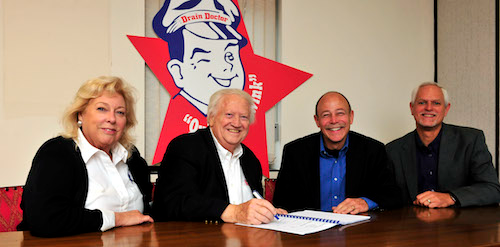 Neighborly, formerly Dwyer Group, one of the world's largest franchising companies of trade service brands, has reacquired the master franchise license for Drain Doctor in the U.K. It is the latest in a series of purchases by Neighborly, emphasizing the company's growing interest in direct franchising on an international level. Terms of the deal were not disclosed.
"This is a momentous day for the international strength and commitment we are making to support and grow our most successful franchise network abroad," said Mike Bidwell, president and CEO of Neighborly.
The equivalent brand to Neighborly's Mr. Rooter system in North America, Drain Doctor was established by Freddie and Jan Mitman in 1993 and has grown to become the largest combined plumbing and draining company in the U.K. with 80 locations operating today.
The Mitmans, who were attracted to the accomplishments of Neighborly service brands in the U.S., looked to franchising as a way to help people grow their own businesses when they purchased the master license and introduced Drain Doctor in the U.K. Today, after 22 years of growth, Drain Doctor has become a reputable and respected name in the region as the Mitmans look towards retirement and Neighborly continues to guide the brand forward.
"We wanted franchisees to have leadership that fully understood the franchising business model and could help them grow further," said Freddie Mitman about the purchase. "Neighborly, the original founder of the systems that have made Drain Doctor so successful, seemed to be the most obvious choice to be entrusted with that future growth."
"We are extremely happy that Neighborly has taken up the challenge of building the Drain Doctor network still further," said Jan Mitman. "Their track record proves that they will be the ideal leaders for the task ahead. Drain Doctor will, so to speak, stay in the family."
About Neighborly®:
Neighborly, based in Waco, Texas, is a holding company of 11 franchise businesses, each selling and supporting a different franchise under the following service marks: Aire Serv®, Glass Doctor®, The Grounds Guys®, Five Star Painting®, Molly Maid®, Mr. Appliance®, Mr. Electric®, Mr. Handyman®, Mr. Rooter® (Drain Doctor® in the UK and Portugal), ProTect Painters®, and Rainbow International®. Collectively, these independent franchise concepts offer customers worldwide a broad base of residential and commercial services. In addition, Neighborly® operates glass shops in New England under the Portland Glass® brand name. Neighborly is a portfolio company of The Riverside Company®, a global private equity firm. The firm's international portfolio includes more than 75 companies. More information on Neighborly, or its franchise concepts, is available at www.dwyergroup.com.
Neighborly is also on Twitter at @DwyerGroup.