Neighborly® Wins 2017 Summit Award from Riverside Company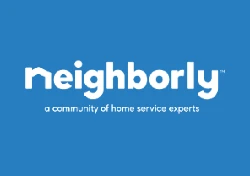 Neighborly Wins 2017 Summit Award from Riverside Company
Global franchising company becomes a top performer for private equity investor





WACO, Texas (February 27, 2017) – Neighborly, formerly Dwyer Group, one of the world's largest franchising companies of trade service brands, recently won a Summit Award as one of the top performing portfolio companies for The Riverside Company. The recognition took place at the annual Riverside Leadership Summit in Orlando, where Neighborly was one of three recipients for the award out of more than 85 Riverside portfolio companies.
"To know the scope and depth of Riverside's investments in companies around the world and be honored as one of the best performers speaks volumes about Neighborly leadership team and the incredible success of our rapidly-growing network," said Mike Bidwell, CEO and President of Neighborly. "Our expansion is unprecedented and I am proud to share this Summit Award with everyone across our organization as we continue to raise the bar for our business and for our private equity partner."
Riverside has enjoyed a long and successful relationship with Neighborly, initially investing in Dwyer in 2003, holding and growing the company until 2010, and reinvesting in Dwyer in 2014. Since 2014, Riverside has helped Dwyer grow revenue from $88 million to $149 million, and increase EBITDA from $27 million to $50 million. When Riverside reacquired Dwyer in 2014, Dwyer had eight franchise brands and 1,600 franchise owners. Today, Dwyer has 16 consumer brands, and 14 of those are franchise brands represented by 2,800 franchise owners generating $1.4 billion in system-wide sales.
"Dwyer has been a tremendous growth partner and an exceptional success story for Riverside, and we congratulate them on winning this well-deserved award," said Riverside Partner Sarah Roth.
About Neighborly®:
Neighborly, based in Waco, Texas, is a holding company of 14 franchise businesses, each selling and supporting a different franchise under the following service marks: Aire Serv®, Glass Doctor®, The Grounds Guys®, Five Star Painting®, Molly Maid®, Mr. Appliance®, Mr. Electric®, Mr. Handyman®, Mr. Rooter® (Drain Doctor® in the UK), ProTect Painters®, Rainbow International®, Locatec®, and Window Genie®. Collectively, these independent franchise concepts offer customers worldwide a broad base of residential and commercial services. In addition, Neighborly operates glass shops in New England under the Portland Glass® and Cumberland County Glass® brand names. Neighborly is a portfolio company of The Riverside Company®, a global private equity firm. The firm's international portfolio includes more than 75 companies. More information on Neighborly, or its franchise concepts, is available at www.dwyergroup.com.
Neighborly is also on Twitter at @DwyerGroup.
###
For more information, contact:
Melissa Rubin, BizCom Associates
(214) 306-7421/ [email protected]